Assisting Japanese SMEs in Developing IP Strategies in China
11:21, February 09, 2010 来源:《中国知识产权》 Harry Yang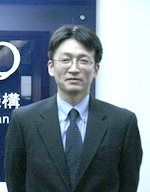 Toshio Taniyama
Toshio Taniyama, the successor to Yoichi Gotani, is the director of the Intellectual Property Division (IP Division) of JETRO (Japan External Trade Organization) Beijing, and the fourth director of the IP Division appointed by the Japan Patent Office (JPO). He majored in physics at Kobe University. After graduation in 1989, he worked for the JPO conducting examinations of invention patents. He was an examiner in the beginning, and was promoted to be an auditor of applied physics-concerned issues in 1993. In 1997, he became an overseas researcher on space development activities for the Japan Science & Technology Agency. Then in April 2003, he served as reviewer of the Re-examination Division, and was promoted to be a senior reviewer in 2006. In performing his examination and re-examination duties, Mr. Taniyama also involved himself in patent law revision and in making international contacts.
Mr. Taniyama presided over the Opinion Exchange Meeting on the amendment of China's Patent Law held by China's State Intellectual Property Office (SIPO) in Japan in 2006. This was his first contact with China's IP community. In July 2007, Mr. Taniyama was appointed as director of the IP Division of JETRO Beijing, which announced the commencement of his work in China.
The IP Division of JETRO Beijing has 5 staff members with their director appointed by the JPO. As representative of the Japanese government, the director is responsible for IP-related work in China. Prior to Mr. Taniyama, the JPO sent 3 officials consecutively for this post. The first director was assigned under the Japan-China Economic Association, but the subsequent directors were sent to JETRO. The reason for this change is that JETRO was established to serve Japanese enterprises abroad. For this purpose, it is very appropriate to have the IP Division established in JETRO.
The major work of JETRO IP Division is to investigate the various IP branches of China, provide Japanese enterprises with consultancy based on the investigations, communicate with Chinese IP government institutions, arrange the visits of International Intellectual Property, Protection Forum (IIPPF) to China and coordination between IIPPF and its Chinese counterpart and organize Intellectual Property Group (IPG) activities sponsored by the Japanese Chamber of Commerce and Industry in China (JCCIC).
Working Responsibilities
The IP Division, Mr.Taniyama added, provides aid to Japanese enterprises in China in their activities for protecting trademarks, patents and other IP rights, and collects information on the requirements of the IP Team of the JCCIC and Japan-funded enterprises. The purpose for establishing the IP Division, as mentioned, is to serve Japanese enterprises engaged in economic activities in China,, familiarize them with Chinese legislation and law enforcement for IP, reflect the practical problems they are faced with, and offer support to their IP protection activities. In his opinion, this is what both Japanese enterprises and some R&D-oriented Chinese enterprises need.
As to the specific work of the IP Division Mr.Taniyama mentioned, it includes investigation, research and information collection of Chinese IP issues, giving advice upon the request of Japanese enterprises, carrying out IP-related education and publicity campaigns, and giving support to Japanese enterprises in their cracking down on counterfeiting activities. Additionally, the IP Division, on behalf of the Japanese government, conducts negotiations with relevant Chinese government agencies. It is also responsible for the liaison work involving high-level talks between China and Japan. We can state that the IP Division is a window in China set up by the Japanese government for communication of IP issues. On Nov. 16, a Regular Directors' Meeting was held by the IP offices of the two countries, and the IP Division was in charge of the contacting and coordination work.
As for the investigation and study of the status of IP in China, the IP Division will first determine a topic and focus for research, and then entrust external institutions, such as Chinese law offices, to complete the work. There are mainly three approaches for the IP Division to collect IP information, that is, to entrust Chinese law offices to collect information, to send investigation letters to Chinese local governments to get relevant information, and to inquire of the Japanese enterprises in China on their understanding of China's IP status. At the moment, the IP Division mainly conducts its publicity activities through the Internet. Registered members receive a monthly electronic magazine in Japanese from the Division. In addition, the IP Division publishes a guidebook every year, introducing the crack-down policies against counterfeiting offenses, and guides enterprises in their fight against such offences through administrative and judicial proceedings.
The IP Division's assistance with the cracking-down on counterfeiting goods carried out by Japanese enterprises is realized by providing training to China's local law-enforcement officials and by holding information exchange meetings. As a result, it enables these officials to know how to distinguish fake from genuine goods made by Japanese enterprises, and provides a communication platform for Japanese enterprises and law-enforcement officials from Chinese industrial and commercial departments and quality inspection departments. Every year, the IP Division holds a dozen meetings on customs, quality inspection departments and industrial and commercial departments, and beforehand, it conducts a questionnaire among the Japanese enterprises in China to determine the time and place for the training.
Work Objectives
Although he has only been in his post for several months and not very familiar with the situation in China, Mr. Taniyama has already been thinking about his future here and has laid down the objectives for his work. He said, "Although I started this work just three months ago, I feel that Japanese enterprises engaged in commercial operations in China are quite enthusiastic about IP protection. Surely, the most enthusiastic are those big transnational enterprises. Small and medium-sized enterprises (SMEs), which just entered China or want to come, are quite unfamiliar with China's IPR legal system and the corresponding law-enforcement activities. In the past three months, I had many consultations with Japanese SMEs. When they finally decided to sell their products in the Chinese market, they found that their trademarks had already been snatched by third parties in China. There are also some Japanese SMEs that have no awareness of patent application and trademark registration. There are quite a large number of enterprises ignorant of their own IP protection. Therefore, one of my objectives is to ask those large Japanese enterprises with a relatively long business history in China to introduce their IP protection experiences to those SMEs which just enter China or expect to come, so that the latter can develop special IP strategies before starting their business in China."
Besides, Mr. Taniyama hopes that he can be a more effective "bridge" to facilitate opinion exchanges between the Japanese and Chinese governments, or between Japanese enterprises and the Chinese government. It is inevitable that different opinions arise from these communications. Mr. Taniyama said, "I hope every party can express its own opinion accurately. Every case is important to an individual enterprise. Therefore, it's also my desire to provide more assistance to Japanese enterprises in every case. For this purpose, we will help them appeal to the Chinese government, or make a 'bridge' between them, so that they can communicate in a normal and correct way. This is one of my objectives and I want to fulfill it."
Difficulties in work
The achievement over the past three months that fills Mr. Taniyama with the most satisfaction is his establishment of a very effective linkage system with relevant staff members from the Chinese government, and contact and communication channels. Nevertheless, he also feels discontented that the focus of his work has not shifted to local regions, and that a linkage system with local governments has not been established. In the future, he will accordingly seek more opportunities to go to different parts of China to establish good relationships with local law-enforcement departments.
Mr. Taniyama also spoke of the difficulties he met. "It's not possible for us to support all Japanese enterprises. Therefore, the biggest headache is which enterprise can get on the list. In some cases, we shall take into account whether the enterprises themselves have tried their best. We can't submit an official letter for every case to the Chinese government. Otherwise too many letters being sent, the Chinese government will not pay attention to any letter. We must make choices, very hard choices. We try to choose the most suitable enterprises to make the best use of our official letters. This is an internal difficulty for us." As for external difficulty, in Mr. Taniyama's opinion, it is also a tough task to decide the wording of every letter so that the Chinese government can easily and accurately understand their intention. They try to avoid conflicts with relevant government agencies. "When I was working in Japan", he said, "I often received accusatory letters from the U.S. Embassy. We do not want to annoy or offend the Chinese government."
Understanding of China's IP
In the interview, Mr. Taniyama talked about his understanding of China's intellectual property. He said, "I think the Chinese government is paying high attention to intellectual property, and has taken a lot of measures to protect it. For example, this May, China's State Administration for Industry and Commerce (SAIC) issued a notice on cracking down on 'brand name imitation'. Before that, Japanese enterprises through JETRO had already requested and proposed that China's administrative departments for industry and commerce strike heavy blows to such infringing activities. We can see that SAIC really adopts ideas provided by foreign enterprises, which, in my opinion, is very helpful to IP protection. I hope the notice will be effectively implemented. However, this activity will cease at this year-end. I hope such crack-down activities will be intensified in the future."
"Moreover", continued Mr. Taniyama, "the Chinese government has made active efforts to amend the law. IP-related laws have been gradually improved. There is not much difference between China and developed countries in terms of IP legislation. China is already among the advanced countries in this respect. "
Mr. Taniyama thought highly of China's law amendments. He hopes that law enforcement will be stepped up, as this is the major problem for China's IP at the moment. He said, "We know that in China, IP experts are scarce in the local law-enforcement departments. There is also 'local protectionism' in some places, which causes difficulties to the Japanese enterprises there. I can't figure out how to resolve the 'local protectionism' problem, but I know, for the purpose of establishing a fair competition market order, it must be resolved."
Future of China's IP Law Enforcement
Referring to the future of China's IP law enforcement, Mr. Taniyama said, "In my opinion, it will take a long time for law enforcement in different regions of China to reach the same level. It is because China is a large country with numerous law-enforcement officials. To achieve the same law-enforcement competency across the country, training and education is necessary for local officials. As for how long it will take, we can refer to the case of the Patent Law as an example. According to the agenda, the revision of the Patent Law is expected to be finished next year. Then, I think it will take ten years to reach the same law-enforcement level throughout China. This is how long it took the Japanese government to make the country's citizens have the same awareness and help relevant officials to obtain a uniform understanding. Surely, we hope to shorten this period. We give training to examiners and hold information-sharing meetings for local law-enforcement officials, through which we hope to promote the improvement of law enforcement. Additionally, we carry out comprehensive education for the public, such as IP education for consumers. The Chinese government has also realized the importance of IP education. If it is continued, its penetrative force will be stronger, and the public consciousness of IP protection will be further enhanced. Lastly, R&D-oriented enterprises in China are gaining greater strength. For more effective IP protection, they will offer suggestions to the local governments, which is also a way of promotion."
Suggestions on China's Law Amendment
JETRO has presented many suggestions on the amendment to China's Patent Law. According to Mr. Taniyama, as for this amendment, the biggest concern of Japanese enterprises was how to file patent applications outside of China for the R&D products they made in China. Chinese Patent Law currently in force stipulates that if Chinese enterprises expect to file patent applications in foreign countries for their R&D results made inside China, they must obtain authorization from the relevant state departments. But according to the draft amendment, not only Chinese enterprises, but also Japanese enterprises, which gain R&D results in China, shall file patent application in foreign countries after being authorized by relevant Chinese government departments. The Japanese government surely understands the reason for this amendment: national secrets may be involved. However, they think that it is not necessary to put all inventions in the to-be-authorized list. In foreign countries, one who applies first will be granted the patent. But in China, prolonging the authorization duration will increase the risk of patent preemption by others. Therefore, the Japanese government suggests limiting the scope of items to be authorized within the invention and creation of national secrets, as well as shortening the examination time for authorization as permitted by law. In addition, a patent application filed in China must be prepared in Chinese. For provisions prone to being mistranslated, the Japanese side hopes to have a longer correction time. The final suggestion is that the revision of detailed patent rules be set down after soliciting public opinions.
If a mistranslation occurs when the Japanese application is translated into Chinese, the scope of patent rights will possibly be wrong. Therefore, the revision time limit is very important for the applying enterprises. The longer the revision time is, the more accurate the application will be. Now the main problem is that professional translators good at both Chinese and Japanese are few, and mistranslations between Chinese and Japanese versions are inevitable. In Japan, the relevant department will give the applicant sufficient time to correct translation errors. English, as a universal language, may be used directly in the patent application filed by foreigners in Japan with the Japanese version attached. For purposes of interpretation, the English version will predominate. English is also a commonly used technical language. Many foreign enterprises in China hope to prepare their applications in English, but it seems that the Chinese government has not permitted it.
As for the Anti-Monopoly Law just adopted by China, Mr. Taniyama is of the view that the Anti-Monopoly y Law and Patent Law are promulgated for the same purpose, only with different approaches. In his opinion, the Anti-Monopoly Law is to promote economic development by maintaining fair competition, whereas the Patent Law is to contribute to economic prosperity by giving rights to owners. Prohibition of the abuse of intellectual property in the meaning of antimonopoly shall not depart from the original purpose of the legislation. Neither can the range of abuse of right be enlarged; otherwise legitimate rights will not be implemented properly. For example, the right owner is entitled to refuse the authorization request put forward by a third party, because it is not abuse of right, but his basic right granted by the Patent Law. In conclusion, we want to stress that the Anti-Monopoly Law should not be used to impair, violate or even prevent the normal execution of rights. When talking about the possible negative impact of the Anti-Monopoly Law on Japanese enterprises, Mr. Taniyama said that in his opinion the present rules provide no such influence, but he is afraid that in law enforcement, there remains a question about whether abuse of right will be interpreted in an expanded manner, and consequently impair the legitimate execution of civil rights. In Japan, there is a guideline defining the scope of abuse of right to avoid expanded interpretation. Any use of right not included in the guideline is legitimate. He hopes that such guidelines will also be available in China.
Most Commented:
Unveiled Rebiya Kadeer: a Uighur Dalai Lama Veiled threat or good neighbor? LA police: Michael Jackson death may have been 'homicide' 80 pct of netizens agree China should punish Facebook DPRK threatens to launch pre-emptive strike against U.S.